Let's help your financial strategy catch up with your success
Fractional CFO services for women-owned businesses with $1M-$10M in revenue
"If we're making sales, then where's all the profit?"
"How can it be this hard to tell where our money's going?"
"We've grown so much, but why does it seem like we're still operating at the entry level?"
You can feel it: your business is growing too big to keep running it by gut.
And your accountant isn't trained to help you level up.
But with a Fractional CFO, you get the financial expertise you need to set up for your next stage of success.
Get 1-on-1 advice from a Fractional CFO with a Fortune 500 background
Run a Financial Health Check and get a manageable action plan
Fix your systems, change your perspective, and start seeing the fuzziness come into focus
Trusted by women business leaders
to share practical, accessible advice
The reason your money feels chaotic isn't that you aren't up to managing it.
It's that your scrappy financial systems are no match for your success.
Your growing business is generating lots of revenue—and even more confusion.
But you're not the first to discover that success doesn't make business any simpler.
Because as a company grows in size, its needs grow in complexity. So if you're over $1M in yearly sales and climbing, then there's a whole slew of financial habits it's time to set aside.
You can't go on like this
Asking bookkeepers and accountants for strategic advice
Jerry-rigging QuickBooks to do things it wasn't designed for
Making major decisions (like hiring) without calculating their likely ROI
Getting by without regular forecasts, or maybe even a real budget
Just leaning on the classic strategy "make more money than you spend"
Graduate to the next level of managing your money
with our Fractional CFO service
With a part-time CFO from NewCastle Finance, you get all the strategic support you need to transform your money management.
Suddenly, you're not doing things just to do them. You're surfacing trends, translating them into business insights, and using it all to align your decisions with your long-term vision.
All like it's routine.
If you're used to feeling lost in your finances, then hiring a Fractional CFO is like finally switching on GPS.
Ongoing 1-on-1 sessions with Fractional CFO Kathy Svetina to talk through your challenges
Deep-dive assessments of your financial structure to start upgrading your systems
Expert plans and analysis so you can stop reacting and start controlling your direction
Solve your nagging money mysteries
It's stressful living with constant doubt. It's also unnecessary.
Pricing, risk, debt, cash flow, profitability. Through regular meetings with an expert, you'll get clarity on the mysteries you thought you had to live with.
Straighten out your systems
Upgrade to the right software, transition to the right reporting methods, and pick out the right KPIs.
Voilà: now you know what's going on at a glance.
Bring more data into your decisions
Never make another major financial move blindly, whether you're hiring, leasing, or taking out loans.
Instead, run the numbers, use them to guide you, and feel confident you can justify everything you do.
Get better results
You've got the sales. But how are your profits?
We'll find where you're getting squeezed so you can cut unnecessary costs and apply those funds somewhere with higher ROI.
Match your strategy to your vision
Instinct isn't enough if you want to control your company's destiny.
We'll develop short- and long-term plans that reflect your priorities, so you end up with the company you intended to create.
Build a sturdy financial structure
You're in this for the long-term. So let's build like it.
With NewCastle's Healthy Financial House™ framework, you get the 5-part blueprint for creating a financial structure that can support your growth from here to infinity.
Meet the Fractional CFO you call
when you're worried that business is booming
14+ years at Fortune 500 companies. A gift for simplifying complicated concepts.
Kathy Svetina is the rare combination of know-how and empathy you need to deal with a company that's getting more complex.
Running a growing business is exciting.
It can also be terrifying. (The higher you climb, the further you can fall!)
Fortunately NewCastle Finance founder Kathy Svetina is a master at helping small women-owned businesses cope with the complications of success.
Here's what makes her suited for the job.
Deep financial know-how
Kathy spent 14+ years in senior financial planning & analysis roles at major companies like Aon and Discover Bank. So when she teaches you how to go beyond the basics, she knows what she's talking about.
Complex subjects, simplified
Fractional business model
Growing small businesses often wind up in no man's land: not big enough for a full-time CFO, but too big to get by without CFO-quality strategy. NewCastle's fractional business model gives you the part-time support that fits just right.
Mission to support an underserved market
Big corporations have enough advantages. So Kathy founded NewCastle Finance to bring small, women-owned businesses the advanced insights they often struggle to access.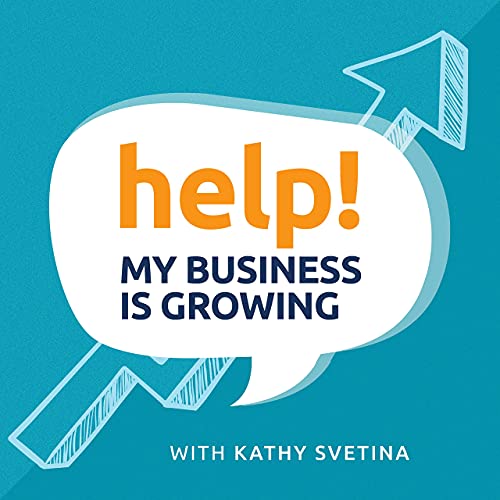 Kathy Svetina helps small business owners go beyond the basics on her podcast Help! My Business Is Growing
The big question:
are we a match?
Fit matters. So before we work together, we'll learn about your business to confirm we can help. But here are some initial indicators.
You're a woman-owned business
You have $1M-$10M in annual revenue
You have a bookkeeper and accountant already
NewCastle Finance does not provide bookkeeping or tax services
See how our services can elevate your strategy
A 5-part assessment of your financial structure
Every client begins with a Financial Health Check. Treat it as a standalone service, or use it as an on-ramp to a Fractional CFO.
Where you'll go next
(if recommended after a Financial Health Check)
Monthly Support
Our true "Fractional CFO" service
or
Advisory Projects
Limited-scope advice for specific situations
Get the strategic support you need
to build a healthy and sustainable business
Here's how
We'll get on a brief call to discuss your business and confirm whether we can help.
Run a Financial Health Check
We'll assess your business according to a holistic 5-part framework. By the end you'll have a clear road map for strengthening your finances.
Make more confident decisions with ongoing CFO support
Watch your finances come into focus with regular support from a Fractional CFO. Soon you're on your way to building the business you envision.
There's no good reason to keep guessing
When you first launch a business, you have no choice but to figure it out as you go. But as you grow, better options open up.
So if your business is bringing in at least $1M in annual revenue and growing fast, there's no good reason to keep going it alone.
If you can't afford expert help, you muddle through on your own. But if you can, you hire. It's like taking a shortcut to your next stage of success. We hope to see you there.
Take the first step toward building a sturdy financial future
Book a free 30-minute call to find out whether you're ready for a Fractional CFO
© 2022-2023 NewCastle Finance LLC. All Rights Reserved.